Quality
The Certification Body of TUV SUD South Asia Private Limited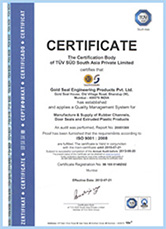 Commitment to Quality
The facilities are ISO 9001 :2008 certified to ensure controlled processes to repeatedly deliver, technically sound and technically innovative products.
To meet the stringent technical specifications standards, complete Inhouse Laboratory and Testing Facility have been set up in Mumbai & Daman
Every compound batch is tested for Critical To Quality (CTQ) properties.
All products undergo extensive validation and testing during the development phase to meet the high quality standard specifications of the OEM customers.
The same high standards are followed for all products including products manufactured for Agricultural tractors, Earth moving equipment, Recreational vehicles and with seat manufacturers, amongst others

Laboratory & Testing Equipment we have…
Rheometer
Mooney Viscometer
Ageing ovens
Tensile Tester
Muffle furnace
Universal Testing Machine (UTM) (with computerized data acquisition)
Flock and Coating Abrasion Tester
Testing fixtures for installation, extraction, sliding force etc
Dynamic force application testing machines
And other SPM's as required to meet customer's specifications.

Finished Part & Component Test carried out as per OEM requirements:

Compression Load Deflection
Weather Strip Installation / Extraction Force
Tear-off Force Between Seal & Carrier
Glass Sliding Force
Flock and Slip coating Abrasion testing
Kinking Properties
Resistance to Chemicals & Water Spotting

Resistance to Wind Shield Washer Fluid
Salt Spray Test on Metal Inserts
Fogging Test
Cold Flexibility / Brittleness Point
Ozone Resistance
Burn at Rate Test